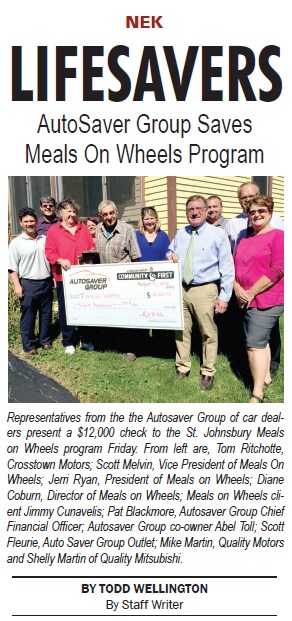 Story:
St. Johnsbury Meals on Wheels was praying for an angel. On Friday, one appeared.
Auto Saver Group - which operates nine car dealerships in Vermont, New Hampshire and New York - presented a giant check made out for a giant donation of $12,000.
The donation covered the program's entire $12,000 budget deficit.
"Thank God for the Auto Saver Group," said Meals on Wheels Director Diane Coburn.
Recent news of the program's money problems caught the eye of Auto Saver Group's Co-owner Abel Toll who was on hand for the check passing and the delivery of a meal to Allen Court resident Jimmy Cunavelis, 82.
"It just sounded like a worthy cause," said Toll. "We try to do it in different communities where we have dealerships."
The financial shortfall was threatening to slow services at Meals on Wheels and, according to Coburn, was caused by a drop off in the suggested $3.50 donations per meal. Meals on Wheels officials say no one is ever refused  food but the average donation has fallen well below a dollar.
"We can't make $12,000 in cuts. People have to be fed," said St. Johnsbury Meals on Wheels President Jerri Ryan. "Companies like this, stepping up and helping people with this. Food! What's more basic than food? They saw the need, they stepped in and we're absolutely thrilled that we can continue."
St. Johnsbury Meals on Wheels operates on a $167,000 budget and serves 125 people in St. Johnsbury, plus about 25 people in outlying towns like Barnet, Concord and Danville.
Meals on Wheels St. Johnsbury dishes out 31,500 meals annually in St. Johnsbury and outlying towns. St. Johnsbury users receive a daily meal delivery and outlying users get seven meals once weekly. Meals are free for patrons. A donation envelope is included but the average gift is less than $1 per meal.
It costs $6.50 to provide a meal, Coburn said. The budget shortfall amounts to about $3 a meal, she said.
Meals on Wheels is paid for by federal grants, special appropriations, and fundraisers like an autumn pancake breakfast. Additional fundraisers are being devised.
Federal money covers 67 percent of costs, Coburn said. It's funneled through St. Johnsbury based Northeast Kingdom Council on Aging, and is paid on a per-meal basis.
Coburn is available for questions at 748-5467. People can mail checks to:
Meals on Wheels St. Johnsbury
P.O. Box 21 St.
Johnsbury, VT 05819